Nelly's St. Lunatics Return
Posted: Monday – April 26, 2010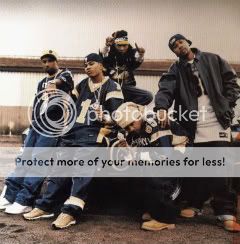 Midwest group St. Lunatics are preparing to make a comeback with a new album in almost over ten years. The group is composed of Nelly, Murphy Lee, Kyjuan, Ali, and City Spud. The St. Lunatics' first album titled Free City was released back in 2001 but due to the incarceration of Nelly's brother and group member City Spud, the sophomore album suffered a major delay.
City was recently released from his ten year prison sentence for charges of assault and is now looking forward to working on material for the group's upcoming album.
"Of course, everybody knows that I've been on vacation for a while and now I'm back."
Earlier this week, St. Lunatics linked with Cash Money CEO Birdman to shoot a video for their new single called Money Talks. The video was directed by Juwan Lee at Visiontracks Studio in Fenton, Missouri and will promote for the group's upcoming album City Free which is expected to be released sometime this summer.
"He [Birdman] wasn't able to be a part of Country Grammar or any other Lunatic album that had been done up to this point," Nelly said in a recent interview. "It's exciting for us to watch him because this is his first time really going through the whole process of putting out an album and everything that comes along with it."
Check out the behind the scenes footage of Money Talks below: