[mp3player width=400 height=100 config=fmp_jw_widget_config.xml playlist=game-spittaz.xml]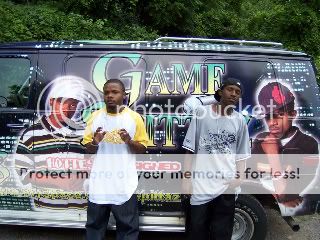 BOOBE TRAP
Dalonshea' "Boobe Trap" Pope was born on October 25, 1987 in Flint, Michigan. As an only child Boobe Trap started rapping at the early age of seven. His uncle played a major role in staring his rap career. At age 12 he opened up a show for Montell Jordan, Changing Faces and John B. From that point Boobe Trap knew better things would come along in the future. Ironically that's when he met his cousin Ronday. After realizing they both had natural talents rapping they created the group Game Spittaz.
Shortly after they began recording their album, Boobe Traps' first child Ja'khi was born and later his second son Jayce. They both motivated him to work even harder towards his career. Even though the group makes a lot of moves doing shows, Boobe Trap makes time for his children. Although he is the youngest of the group, he knows a lot for his age and continues to get wiser everyday." This is not a hobby,its a way of life!"
RONDAY
Donquay "Ronday" Simpson was born July 11, 1984 in Flint Michigan. Ronday started rapping when he was about 14. Recording on tapes, hours of freestyle to keyboard beats. He didn't know much about writing raps because he generally flowed from the top of his head. Once he started to write that's when it became serious to him. Recording songs was a great way to get things off his chest.
When Ronday met his cousin Boobe Trap, and realized how much they had in common they became the Game Spittaz . They began doing shows creating a small buzz around the city. Growing up, Ronday looked up to his older brothers. The only male figures in his life. Ronday's brother Bear Baby became the CEO of their group. Bear Baby put them in the studio in Saginaw, MI. Game Spittaz started performing in other cities making an even louder buzz throughout the state. Their stage presence was great, they received a tremendous response every performance. Before releasing the album they decided to drop a mixtape. With another great outcome they continue to move forward. Ronday feels this is just the beginning, everything else was the pre-stages. "We will blow like never before, when the right person hears us." Could that person be you?
CONTACT/BOOKING INFORMATION: